Mallory Ignition 563 - Mallory Ignition Ignition Components
LINK FOR THE PARTS:
http://www.summitracing.com/parts/MAA-563/?rtype=10
Mallory unilite conversion kit 126.00 01/08/2010 PRICE
Ignition Conversion, Unilite Breakerless, 4 cyl., YL/HP/25/26 Series, Each
YOU CAN USE AN DUAL POINT AND CHANGE IT TO UNILITE WITH THIS KIT.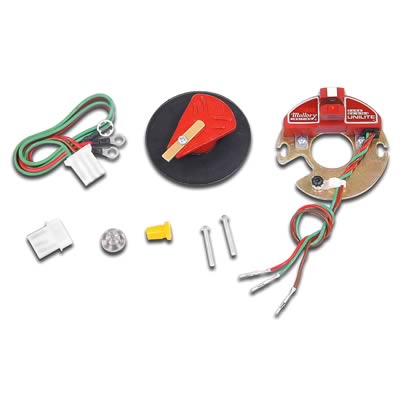 YOU WILL NEED A GEAR PULLER TO REMOVE THE POINTS CAM..
ALSO MAKE SURE YOU READ THE PDF INSTRUCTIONS!!
CLICK HERE FOR THE INSTRUCTIONS
---
VEGA UNILITE
REPLACEMENT PARTS:
4558301 WHOLE DIST UNILITE
4658301 UNILITE WITH MECH TACH DRIVE (RARE)
605 MODULE
271 CAP
340 ROTOR
29349 HARNESS
COIL 28880 64 KV @ 1500 MAH (WOW!!)
MAKE SURE YOU USE RADIO SUPPRESSION WIRES AND THE UNILITE SAVER