IECO 190 HP 4 CYL / POUSTUSA CHEVY VEGA PAGE
RADIO SERVICE RADIO CONVERSION AND MORE
SALVAGE YARD LINKS STATE BY STATE LISTINGS
EQUIPMENT AND SMALL ENGINE PAGES WITH LINKS HONDA PAGES TOO AND HOW TO!!
CLICK BELOW FOR THE COOL UNIT CONVERTER SITE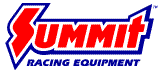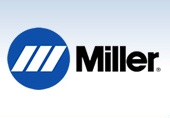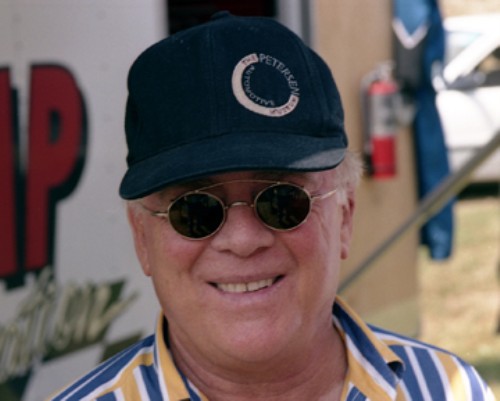 The February 24, 1958, issue of The Times of Havana has, in addition to a write-up on the short- lived Cuban Grand Prix to be held that day, an article on 23 year old Raoul "Sonny" Balcaen 111, a self- educated automotive engineer." By the time he was 11, he could take an automobile apart and put it back together. He quit school in Los Angeles after the 8th grade, to his parents dismay."
After various jobs, Sonny ended up with Jim Hall in Dallas. "The inquisitive young redhead traveled with Jim Hall of Dallas, who powered his Maserati to first place in the 20-lap feature race at Fort Worth's Eagle Mountain Lake recently. Sonny is working on two projects besides his duties with Hall. One project, nearly complete, is putting Lance Reventlow's classic Bugatti into condition for automotive shows. The other project is designing and building a sportscar of his own, powered by a Chrysler V8 engine, no transmission, working off direct drive, very light with enormous brakes. The frame and engine already are built and Sonny says when the revolutionary sports car is finished, either he or Jim Hall will race it."
He was also in charge of the parts department at Shelby American. And also helped with Jim Hall's Lister-Chevy. And he was on the crew building the Scarab for Lance Reventlow. Working with master builder Phil Remington. Whatever happened to Sonny Balcaen 111 after that? Above photo is Raoul "Sonny" Balcaen at the 2003 Scarab reunion held at Elkhart Lake.

---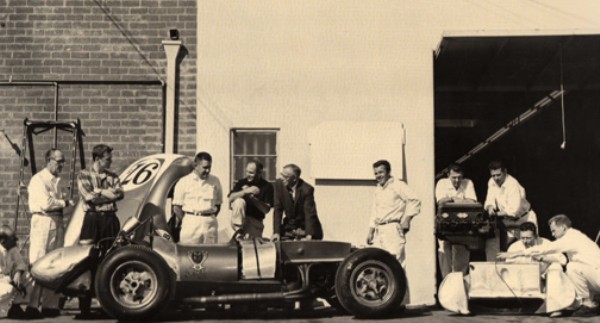 Here is Raoul "Sonny" Balcaen outside the Scarab workshop in the Culver city area of Los Angeles. Sonny is behind the front wheel. Some pretty famous people are in this picture, on the ground looking at the fuel tank are Phil Remington and Harold Daigh, also in the picture are Emil Deidt the body man and Jim Travers and Frank Coon of Traco fame and Dick Troutman. The guy in the long shirt is Marshall Whitfield and in the suit is engine builder Leo Goosen.
Sonny grew up in the Playa del Rey area of Los Angeles. That is just south of where Marina del Rey is located at this time. His father was a pilot in the Old Army Air Corp service. Sonny's first interest in racing was in the drag racing field. At 14 he had already driven a dragster. His mentor in drag racing was Ed Donovan. And he raced at Saugus Drag strip.

---
Frank Startup driving dragster that Sonny helped build when he was 17.
The engine in this car was called a GMC 12 port. Believe it or not it ran 152 mph in 9.6 seconds this was in 1955. Sonny would buy the Nitromethane in Long Beach from a company called Olsen and Rice. It cost between $5 and $6 in the mid 50's. The above track was called Santa Ana. They also had motorcycles that were very fast in those days.
---
Side view of Dragster
Side view of GMC 12 Port Racing engine
---
HSE: As they say you have seen nothing yet. Sonny was part of the drag racing scene in the 50's and then he helped Jim Hall and Carroll Shelby in their racing. He also was a part of the original Scarab crew. He then was a part of Shelby America. This site is going to surprise you when Sonny gets me the rest of the photos.
I am waiting to hear from Sonny on how fast that dragster went. It was on Nitromethane. A little trivia on using what they considered Rocket Fuel is it was banned in 1957:

The National Hot Rod Association, founded by Wally Parks in 1951 as a governing body for the sport, wasn't all that sure about the innovation of using Nitromethane. Boiling it down to the most simple language, these guys were putting rocket fuel in their engines and it just sounded a little too "hot" even for the hot rodders.
On April 1, 1957 the NHRA banned nitromethane from its sanctioned strips, starting a seven-year drought in the "official" evolution of drag racing fuel. It wasn't until January 1962 when the Lions Drag Strip lifted the ban that things began to thaw out.

Sonny Balcaen is going to clear up a few things I have said wrong. Mainly he started building the car when he was 17. Here is what Sonny has to say:
"First, I originally started building the car when I was 17. Frank Startup of Startup and Donovan fame was driving.The track was Santa Ana,California about 1955 or 1956. I was born in 1936. In drag racing we used 95 percent nitro and 5 percent of either benezine or ethyl ether. We experiment some times with a fuel called hydrazine. I originally worked for Pete Clark who was Rex Mays builder. Warren Olson hired me, and I worked for him many years. Carroll Shelby asked me to be the mechanic for a young Texan, by the name of Jim Hall. I worked for Jim before he built the Chaparrals. I then went back to work for Lance Reventlow and the Shelby American. I started my own company ,which made performance parts,which was named IECO,Inc. I hope this clears things up a little."
All the best, Raoul "Sonny" Balcaen
Sonny Balcaen at 17 years of age.
Sonny will discribe this car now. It was a 3 port GMC engine powered dragster: " This is the dragster when I first built it. It used the three port GMC cylinder head which I then modified. The engine ran nitro and it timed at 136mph in 10.4 seconds at the Saugus drag strip. I was driving at age 17. Circa 1953 ."

P.S. Notice the seat was over the axle. Not a "slingshot" design as the later design which included a body. A true invoation at the time.
All the best Sonny.
---
Here is another view of the GMC after I set a record at San Fernando Drag Strip at 149 mph.
The late Cal Niday of Indianapolis fame is just to my right. The other people I can't identify.
All the best,RFB,III

---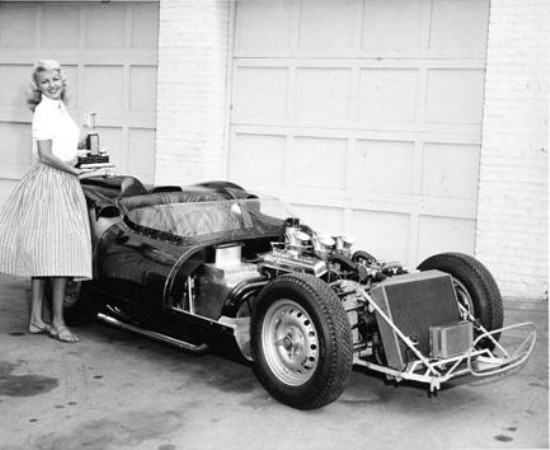 Jim Hall's Lister Chevrolet
Sonny Balcaen built the engine in this car, it was a Chevrolet engine. It produced 325 H.P. on gasoline in 1957. The nose of the car was removed for pictures of the engine.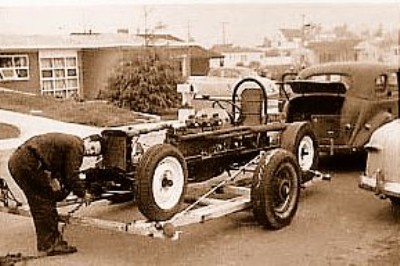 Raul Sonny Balcaen and his tow rig
That is a 1938 Chevy and a single axle trailer. In the day it got the job done.
---
Bruce Kessler and Warren Olson and Sonny Balcaen
This was inside the Scarab tent at Road America for the 50th Reunion of the Scarab team.
---